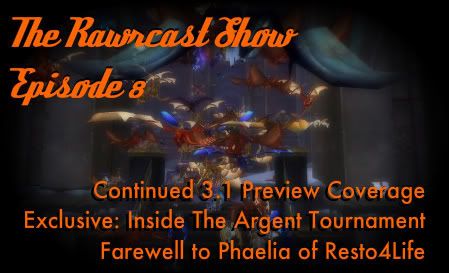 This week's Rawrcast was broadcast LIVE from The Argent Tournament on the US PTR realm, Broxigar. Our PTR experiences this week are discussed along with a few highlights, including the still crappy Flask of the Stoneblood, exploring Ulduar, testing the Iron Council event, and mats you may want to start gathering now for new craftables in 3.1. And, Stomp bids a fond farewell to Phaelia.

We also address a Swedish listener's e-mail regarding the challenges of playing on the EU servers. And, we explain how our hard edge seems to be misinterpreted as a soft chewy center.

All this, and much more is now available for your listening pleasure via iTunes, RSS feed, download, or stream it from our main page.