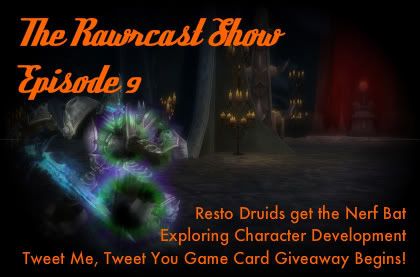 This week we decided to take our balls out of our purse and rock the explicit tag moving forward in an effort to reduce the amount of colorful words being edited out each week! And, with the addition of this stimulating vocabulary, our live podcast flourished with loads of listener feedback and an outpouring of questions. So, we feel the choice has added more flavor to our already rich and rewarding show!

Topics covered this week include the upcoming Lifebloom nerf about to be bestowed upon our druid brothers and sisters, and how the new mana regeneration changes will effect play style with regards to mana conservation. And, we give our differing opinions regarding a particular blue post that appears to sanction of the practice of selling raid spots for titles.

Also this week, we kicked off the start of our Tweet Me, Tweet You Game Card Giveaway. Make sure to follow me and Hafrot on twitter.com, send either of us a @reply with this week's Secret Code Word, and you are entered to WIN a 60-day World of Warcraft Game Card. It's easy to enter, easy to win, and fun to play! Complete details are posted here.

Episode 9 is available for your listening pleasure via iTunes, RSS feed, download, or you can stream it from our main page.

A few links to items we discussed:


Lastly, in the spirit of giving away free shit – there is late breaking news regarding another contest that will start next week in addition to the Game Card Giveaway! So, keep those iTunes comments coming and we will do our damnedest to get some great, like-minded sponsors ready and willing to give away as much free stuff as possible!

Don't forget to tune in for the

LIVE show next week on

Ustream

– Saturday, March 14 @ 4 PM, CST

when we cover the lore of Ulduar!