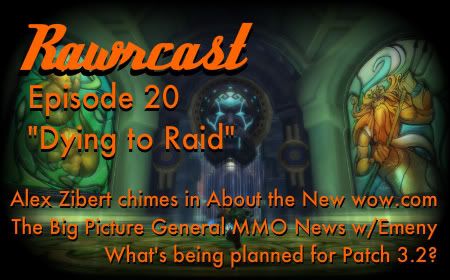 Sorry for the delay in getting this out!
This week we are joined by Alex Zibert, editor for WoW.com, to discuss the changes made this week to WoW Insider, and our Rawr Crew is representing this week with an at-length discussion with Emeny. We cover a myriad of topics ranging from Warrior DPS to various loot systems and how it changes morale of new recruits.
Additionally, Emeny introduces "The Big Picture" segment where we discuss general MMO industry news outside of World of Warcraft. Lending perspective on how other games function and map development definitely widens opinions.
All of this, and much, much more is available for your listening pleasure via iTunes, RSS feed, download, or you can stream it from our main page.
Links to topics discussed this week:
Win Blizzcon Tickets!
Official Blizzard Fansites

Sign-up as a member on our Discussion Forums
and you are entered to
WIN a FREE year of Curse Premium Service!
And, while you are there, pick up
your
I heart Stompalina T-Shirt
and Support the Rawr!
Don't forget to tune in for the
LIVE show next week on
Ustream
– Saturday, May 30th @ 4 PM, CST
We have an

EXCITING SUMMER

shaping up!
Check out the Rawrcast Calendar
for the complete line-up!
Music Provided by: Dragonlord / Revelations